High Intensity Focused Ultrasound (HIFU and Radiofrequency) offers effective skin tightening and its one of the most popular non surgical face lift and body sculpting treatment. schedulicity.com/scheduling/ABDXZQ(opens in a new tab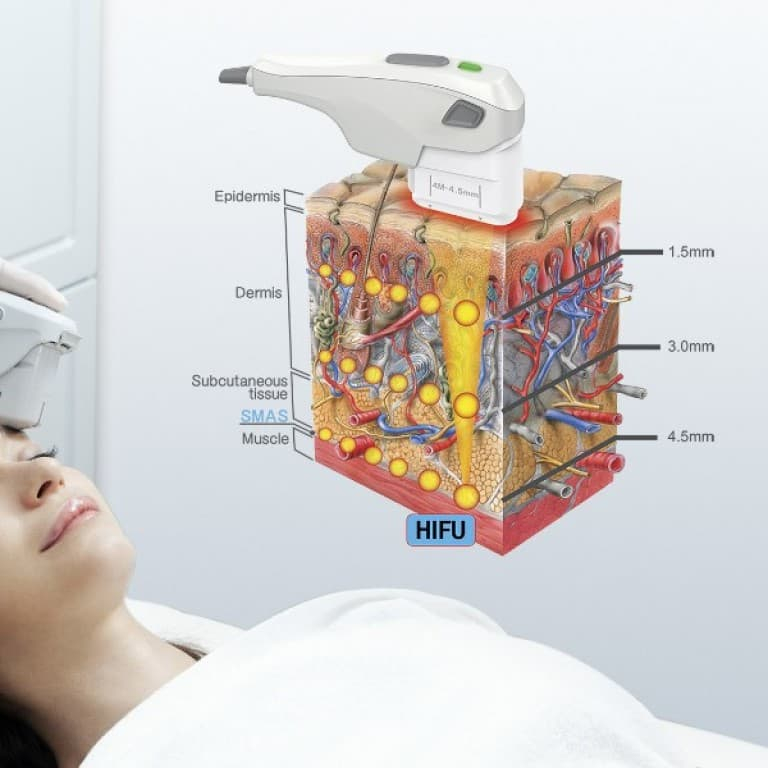 High intensity focused ultrasound (HIFU), 'Ultherapy' or 'Ultrasound Facelift' has become one of the most popular, non surgical skin tightening treatment for the face and body. It targets individually Brow lifting, Jowl line lifting, Nasolabial fold reduction, Periorbital wrinkle reduction and overall face and body skin tightening and rejuvenation.

The highly focused acoustic energy creates thermal coagulation zones at 3 different selected depths following which a wound healing response results in the formation of new collagen thus providing a longer term tightening of the skin. Generally a noticeable improvement in the patients facial contouring and fine lines and wrinkles will be visible within a 4-6 weeks period whilst further improvement in facial skin tightening and wrinkles will be reportedly seen up to 12 weeks.
The reason the treatment can be so effective is its ability to penetrate at multiple deep levels. While some technologies can effectively target the superficial dermis, high-intensity focused ultrasound can target the dermis and the SMAS layers, which is the same layer adjusted by doctors during a facelift surgery. Unlike surgery, however, it does not require downtime and is far more affordable.
Radiofrequency (RF) is commonly used procedure to stimulate collagen production and strengthen the skin structure. This is a great way of reducing fine lines and wrinkles, enlarge pores and improving skin tone and texture as well as dull skin. It can also be used for body tightening (for the best results, in conjunction with HIFU). RF also improves blood flow and lymphatic drainage and provides a better oxygen supply and greater toxin clearance.
Cyclone RF combines multi-polar technology and rotating technology to re-bond collagen fibers within the skin and reinforce delicate skin against aging.
| | |
| --- | --- |
| Treatments | Price(USD) |
| abdomen | $800 |
| Double Chin | $300 |
| FACE | $600 |
| Face and necks | $800 |
| Eye bags | $300 |
| Eyebrow | $300 |
| Jaw Lines | $300 |
| nasolabial | $300 |
| Mouth | $300 |
| knees | $600 |
| Waist | $500 |
| Outter Thighs | $750 |
| Inner Thighs | $650 |
| Flanks | $700 |
| Arms | $700 |
| Legs | $800 |
HIFU FAQ's

Is HIFU or RF painful?
HIFU is not painful but some clients find the RF procedure slightly uncomfortable. It is common for clients to feel a warmth or heat, as the RF is applied.

Who is HIFU Suitable for?
HIFU is mostly suitable for clients who are 30 to 65 years old. The aim of HIFU is to tighten, lift and restore youth to the skin, therefore the procedure is best suited for those who have noticed that a certain area has begun to lax or appear less youthful, mild-to-moderate skin laxity.
Clients with sun damaged skin or a more loose skin may need multiple treatments before seeing results.
How many treatments is needed?
Often one session will be all that is required for skin tightening, however results can vary depending on your requirements and your responsiveness to the treatment. Results can be seen within 3-8 weeks, with final results being reported after 3-6 months.


What areas can be treated?
HIFU Plus Radiofrequency skin tightening, fat and cellulite reduction on the face and body:

Brow Lifting
Eye bags
Jowl
Chin
Neck
Decolletage
Arms
Abdomen
Back
Buttocks
Thighs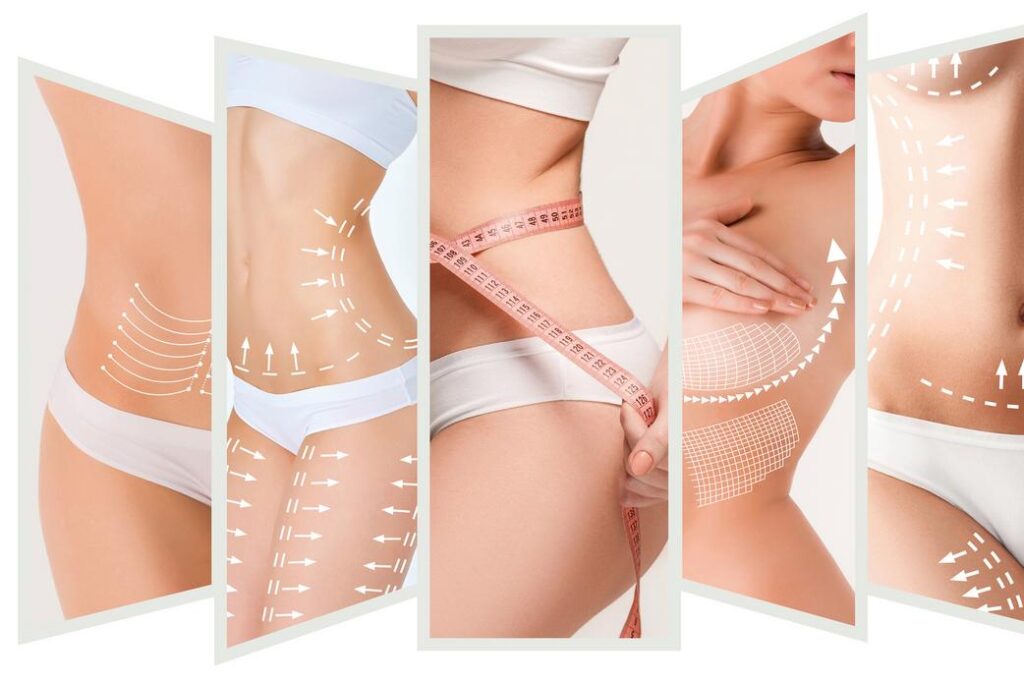 Is HIFU safe?
HIFU is completely safe. The procedure is performed worldwide on a daily basis, ultrasound energy is also used in a wide range of medical procedures.

Are there any risks or side effects?
Side Effects include:

• Slight Ache in treatment area
• Ache or prickling over the bone area
• Redness
• Tingling in the treatment area

All of the above side effects are temporary and usually subside within a few hours.

What can I expect when I have my treatment?
There will be an initial consultation with an aesthetic practitioner to discuss your concerns and goals. During the treatment a hand held device is moved over the selected treatment area (e.g Face) this device delivers High Intensity Focused Ultrasound to the skin. The procedure as a whole lasts between 20-60 minutes depending on the size of treatment area.

What happens after treatment?
Once the treatment is over clients may experience some redness or tingling however most are able to return to their day to day activities immediately.
Can HIFU+RF replace a facelift?
Although HIFU+RF treatment is uplifting, it is not a surgical facelift. Whilst our procedure will not be as drastic as surgical intervention, it is an inviting alternative to those who are not ready for surgery.
Contraindications:
Heart disease,
Diabetes (Type 1),
Pregnant or Breastfeeding,
Cancer (current or any history of),
Pace maker fitted, defibrillator or any other electrical implants / apparatus (medical or not),
Any current illness, disease or infection,
Severe epilepsy,
Gastric ulcers,
Medical oedema,
Any current numbness or lack of sensation to cold or heat,
Any kidney, liver or heart problems,
Irregular heart rate or heart murmur,
Immune system disorders,
Any vascular or blood clotting disease.